Past Fun Events
Soirée du cinéma francophone:
"Mme Brouette" Sénégal 2003 - Février 2006
Wine Tasting Friday January 7, 2005

Greg Martellotto from Pascal Wine Imports gave us a fine lesson on French Regional Wines. Our guests sampled wine while
savoring various French cheeses and patés.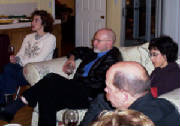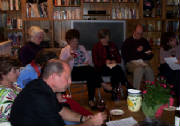 Guests took notes while
they tasted the various wines.